TLC Releases Video For "Way Back" Feat. Snoop Dogg!
TLC, one of the hottest groups of the 90s & 00's is back and serving us up some good vibes in their new music video. T-Boz and Chilli have so much to celebrate. In their new video for "Way Back," the ladies party at a neighborhood function with lots of smiling faces around. The funky beat puts you in the mood for an old school summer party and promotes an old Cali party swag. The opening lyric puts it perfectly: "It's been a long, long time coming." This has definitely been a long awaited journey for fans like myself, who have always loved the funky and trendy sounds of the group. We are extremely happy to see them back on the music scene doing what they do best.
In the video, Snoop Dogg drops his approval on the backyard barbecue jam as the group brings the block together for some fun. In the "Way Back" clip, which is full of brightly colored outfits, neon plastic sunglasses and coordinated dancing. T-Boz and Chilli sing fondly of Prince, Marvin Gaye, James Brown and high school parties, with Snoop Dogg appearing in front of a green screen to deliver his own wistful verse: "Now what the future holds, no one knows/ But the past is a blast, game overload." Just listening to "Way Back" reminds us all, just how far back we go with the group and how far they have come over the years."Way Back" also marks TLC's first single in a whopping 15 years. The third original member of the iconic 90s-era girl group, Lisa "Left Eye" Lopes, passed away in 2002.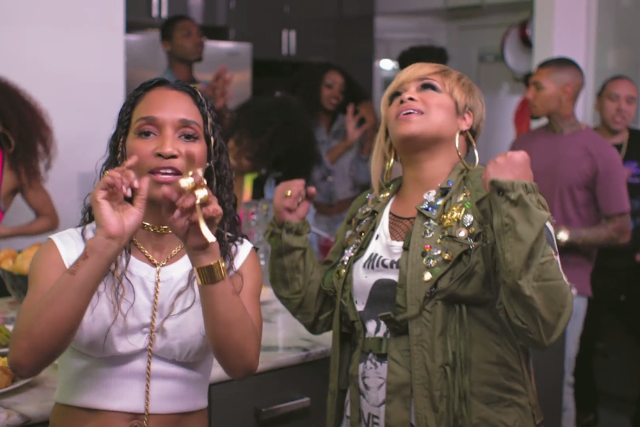 In January 2015, the group launched a Kickstarter for one last record. They will headline the I Love The '90s – The Party Continues Tour with Sugar Ray's Mark McGrath, Naughty By Nature, Biz Markie, Montell Jordan, and others when their 29 concert dates kick off on July 7 in Everett, Washington and ends September 16 in Chicago.
TLC's fan-funded self titled album is slated for release on June 30. The project is available now for pre-order on iTune.
Check Out The Video Below!